---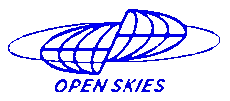 New developments in "Open Skies"
Hartwig Spitzer
Universität Hamburg
Arbeitsgruppe für Naturwissenschaft und Internationale Sicherheit (CENSIS)
On June 17 and 18, 1997 Hungary (as a lead nation) and Romania performed two joint Open-skies trial flights over Bosnia and Hercegovina. This was one of the voluntary confidence building measures foreseen under Article 2 of the Dayton Agreement. It involved representatives of the State of Bosnia and Hercegovina and from the three ethnic "entities" as well as international observers. Aerial photographs taken from military sites of the three entities were shared among them. It was the first time since NATO took over control of the airspace over Bosnia that aerial photographs of their mutual territories became available to the parties. The flights were carried out in a cooperative atmosphere. It is expected that further Open-Skies trial flights over Bosnia will follow during this year, carried out by Romania and potentially also the United States and Germany as lead nations. This might pave the way for a more permanent Open-Skies regime for the region.

It is little known that a bilateral Open-Skies Agreement between Hungary and Romania is successfully in force since 1992. In contrast, the multilateral Open-Skies Treaty, which has 27 state parties, still waits for entry into force. The pending ratification procedures in the Ukrainian Rada and the Russian Duma are hoped to take place this fall. Many previous hopes in this direction failed. However, there are some positive indications: The Russian Ministry of Defense gave the go-ahead - after a standstill of more than one year - for a new round of bilateral trial flights under the rules of the Treaty. On the Ukrainian side their Open-Skies aircraft, a twin engine Antonov 30 with a flight range of less than 1500km, was taken to the United States earlier this year. This flight required a spectacular "island-hopping" with four stopovers. It covered US sites on the East Coast including Cap Canaveral.

Beyond the Northern Hemisphere the Open-Skies idea is taking ground in South America. The United States have been promoting the idea in a tacit but persistent way. It was agreed to display the US Open-Skies aircraft at a major airshow in Santiago de Chile in March 1998, concurrent with a meeting of the Latin American Defense Ministers. The US will also offer to bring their Open-Skies aircraft to all capitals interested. South American Defense Ministers have declared confidence building measures to be among their priorities. It is said that at least four or five South American states are interested to consider bilateral or trilateral Open-Skies arrangements with their neighbours.